How to sync your management software (PMS, ERP and other tools) with the Sharebox platform.How to prepare the platform for your organisation.
Onboarding procedure
Send the following contact data for each of your admin users to post@sharebox.no and your account will be created.
NAME:
EMAIL:
MOBILE:
A confirmation will be sent from our technical department for you to proceed with the following steps.
1. Register first time on Sharebox web admin and set your password. https://login.sharebox.no/register

2. Login to Sharebox web admin to set up and manage your account. https://login.sharebox.no/login

3. Logged in to Sharebox web admin and click "settings" on your profile.

4. Choose the software partner and PMS you want to integrate with, click connect, Guesty as example.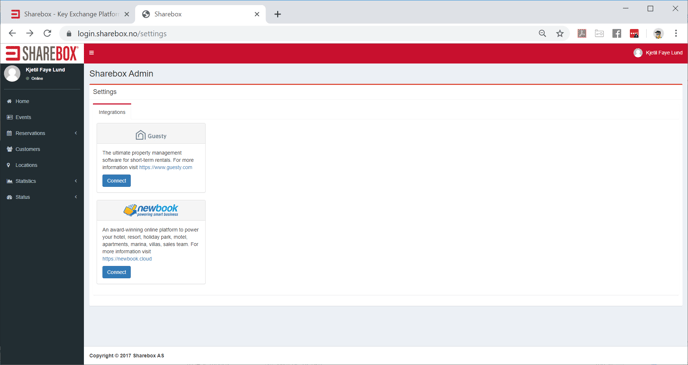 5. Go to your PMS platform, Guesty as example, find "integrations", click generate new key. Then copy the API token.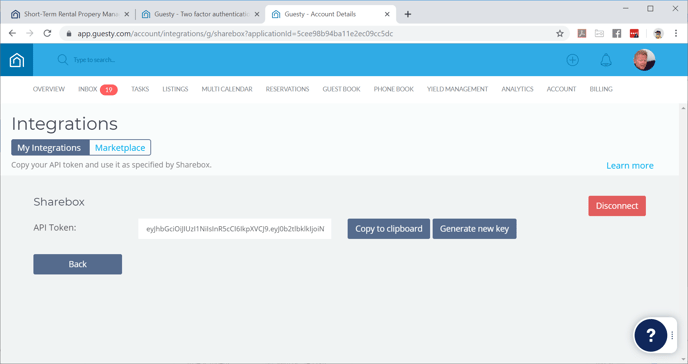 6. Paste API token from PMS, Guesty as example, to the API token field in Sharebox web admin.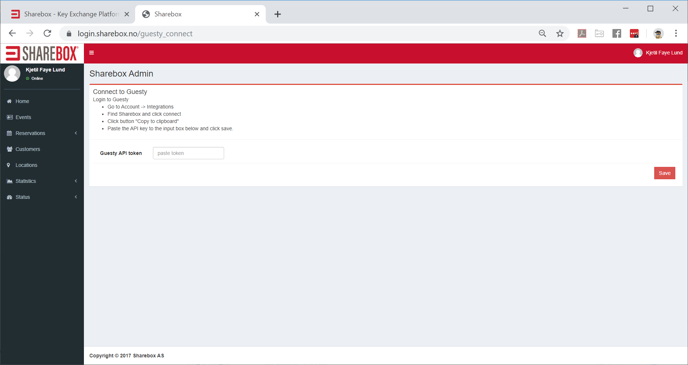 7. In Sharebox web admin: Generate Subscriptions in the relevant cabinets for the objects you want to connect. Use Address as subscription name.

To start operations - how it works
When setup is done the user can go to settings, Guesty. He then gets the connect page where the listings in PMS (Guesty as example) are shown and you can choose which subscription in Sharebox to connect this object to. Here you have the benefit of having entered the address as subscription name in Sharebox. When this is done new guests will be added to the subscription in the Sharebox.
Under you see a listing view in Guesty. Here you see Nickname, title and address fields shown.
When yo create a new listing in your PMS, then go to Sharebox web admin, find the Sharebox location and activate the subscription. Our systems then provide a text message to the arriving guest/customer with a web-link used to open the locker.