How and why to use a web link as a procedure to open a hatch on a Sharebox
The web link is generated by our backend. It can follow in SMS or in an email.
When the customer clic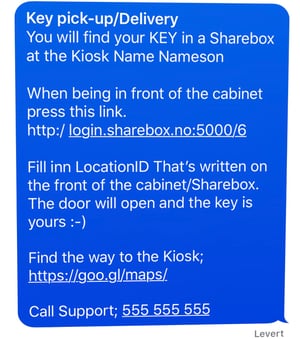 ks on the link, a tailor-made web page will open which can also have location / supplier info etc.
On this page there is a field where the customer should enter the location ID. Location ID finds the customer printed on the cabinet itself. We make it so that no one can open a hatch without standing in front of the closet.
The web link can be forwarded, but only works once. (it is possible to open several times if you do this within five minutes. this can also be customized)
The text in the SMS can be customized in different languages according to the country code to which the text messages are sent.